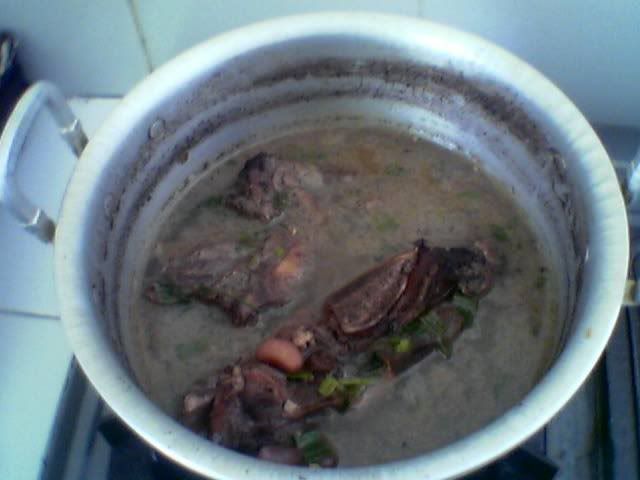 Picture of Read Bean Soup.
Nothing special,at least for all the people around the world,but it is for me.
why? because...itulah sup kacang merah pertama buatanku!!!Ha3x. Mau 28 tahun, kemana aja selama ini????
Anyway, kemaren kevin sudah 40 hari dan untuk memperingatinya (duileh...), gue ke PIM 2. Sekalian, soalnya gue juga belum pernah kesana, emang deh untuk urusan mal2x dan shopping centre gini,two decades behind banget,kuper.
Sengaja datang kesana jam 11-an, biar masih sepi.
Actually, I want to get some books in Kinokuniya even I have several books which are unread yet. And these are the ones that went to my shopping bags:
1. Tuesday With Morrie --- Mitch Albom
2. How to be iddle --- Tom Hodgikinson (recomended by Lubeck, Batam)
3. The Orange Girl --- Joestein Gaardenet
4. State of fear --- Michael Crichton (actualy this is for poppy b'day which was last year,but the papper back ones just arrived...he3x)
then we went to second floor, biar seluruh mall masih sepi ternyata lantai 2 crowded banget, ternyaya...ZARA is up to 50% off. NO wonder lah...sampe harus ngantri dan dijatah yang mau masuk ke Store nya ckckckck...
I also buy a Compact Flash for my Canon camera, it still use the original one (32 MB). I stopped by in Gramedia, Harry Potter The Half Blood Prince (indonesia version,hardcover) was launched last night. I decided to buy that for Susi 32th b'day last month. the book goes with free bag (tote cloth bag) whenever you buy that book on that store (while stock last). The paper back will be launched on Jan 22nd
then, went to Metro to see what on sale! he2x. I decided to buy Naf2x Watch wihich was 50% off. With two kids, I can't afford to buy Guess Watch anymore.:). Interior nya metro ternyata sudah berubah, I got lost there!
As a housewive, I also have to put some groceries at my shopping bag .
So, I guess today is my shopping day.
Don't have a gut to see my next month bill!